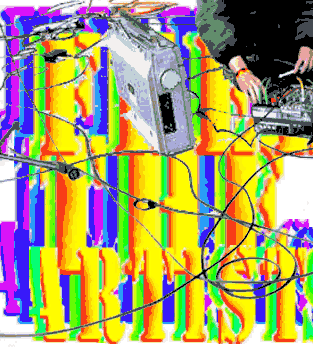 "Nurturing Art, Nurturing Artists"
At tax time this year, make a tax deductible donation to the FCMC and assist us in continuing our support of avant-garde and experimental art practices and practitioners into the future.
2012 – THE TIME OF OUR LIVES – program update
FCMC Archive has continued to grow and now houses 300,000+ uncatalogued titles representing the work of over 1,200 of Australia's weirdest artists.
FCMC Education has established the SPACE/SOUND improvised and experimental music workshops with the assistance of ArtslinkQld.
FCMC Space has assisted with the promotion and presentation of gigs and festivals around the country – notably the founding of the New Improvised Music Series in partnership with Hands on Art; and the WHAT ISN'T MUSIC festival on Cockatoo Island in partnership with Pulled Out.  Plans are under way to establish the FCMC Clubhouse in Brisbane later this year.

By clicking the above link you can support us in representing and preserving the radness cultural diversity and experimentation in Australia.
All donations over $2 are tax deductible. Donations over $200 will receive a FCMC GIFT PACK including original art objects.
for more info contact:
Bonnie Hart – Secretary
bonnie @fcmc.org.au – 0422 922 406
Reg No:  A005414Z         ABN:  60 798 200 717
Bonnie Hart – Secretary
bonnie @fcmc.org.au – 0422 922 406
Reg No:  A005414Z         ABN:  60 798 200 717